Solar power has steadily been on the rise since 2010 for employing the energy field but it finally overcame the oil industry for the amount of employers in 2015.  The only dark side that looms with the bright future of solar power is the pay as it is still drastically lower than the oil industry making it a questionable rise for the economy. Below are a few graphs that exhibit the rise of the solar industry: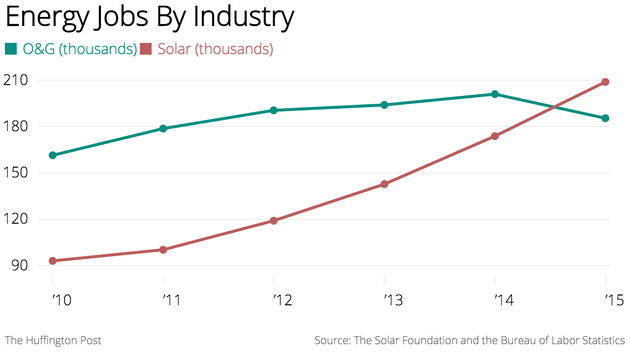 THE HUFFINGTON POST
The oil industry has had a rough 18 months, as the price of oil slid from more than $100 a barrel in the spring of 2014 to just over $30 a barrel in recent weeks. The low price has caused layoffs in what had been a robust and growing shale oil extraction business. 
The solar industry, meanwhile, continues to grow as the technology becomes cheaper, making it a better deal for the average household. The Solar Foundation's report also shows how the price of installed solar panels continue to drop:
solar installation jobs are completely taking off:
The one place where solar hasn't caught up to oil and gas, it seems, is in the pay. According to the report, solar installers — which account for a plurality of jobs in the industry — get $21 per hour on average. The pay in sales and design is higher, at $28.85 and $26.92, respectively.
---
Original Source: